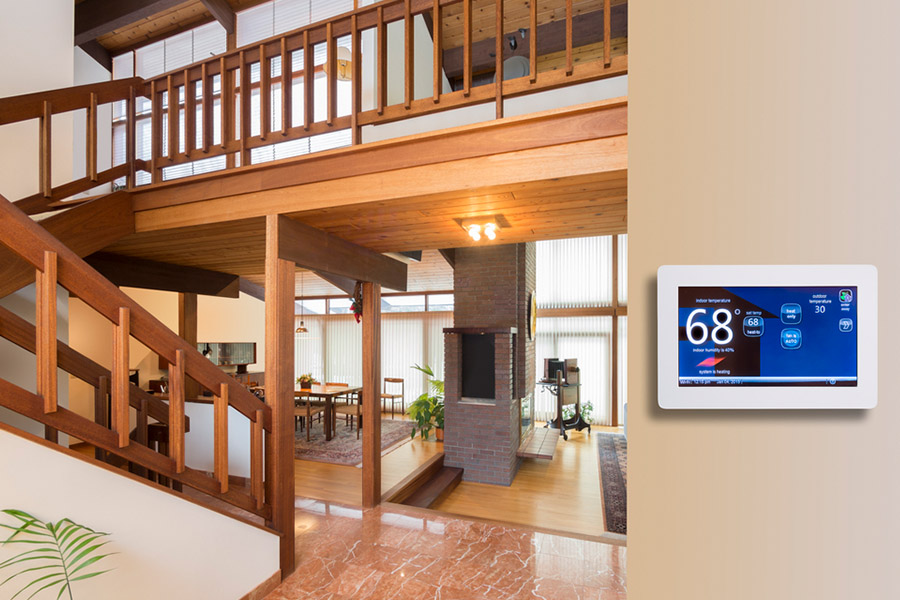 Why Install A Smart Thermostat In College Station?
Modern smart thermostats have progressed quite a ways past the simple dial or switch for adjusting your home's comfort levels. If you think now might be the right time to install a smart thermostat in College Station, you will get much more comfort with much less work. Equipped with Wi-Fi, multi-room sensors, and the convenience of home automation, these remarkable instruments will help lower heating and cooling costs and enhance your property's comfort and security.
How Do Smart Thermostats Work In College Station?
Once installed, your smart thermostat will run in a comparable fashion as your old one in terms of basic usability. The design will likely be more contemporary, but you'll still be able to view the temperature display. You can still increase or decrease the heat and A/C from the device, and your thermostat will still allow you to switch between fan, heat, and cool.
However, if you install a smart thermostat in College Station, you will benefit from a nice addition of exciting features. The reason for this is that this HVAC component is linked into another network within your home, like your Google smart speaker or home security system. Through the use of a smart hub or mobile app, you can program your smart thermostat to alter your home's temperature settings in an automated manner at different times of day or to react to input from another device. In the end you have a home that is more energy conscious and comfortable.
Why You Should Install A Smart Thermostat in College Station
There are many reasons to upgrade your old device to a smart thermostat:
● Simple management through a smartphone app. Take command of the thermostat remotely via a mobile app like the easy-to-use option from ADT. Are you feeling a bit overheated while you're struggling to get some rest? Just grab your smartphone and turn on the air without getting up. You can also monitor your property's temperature while on summer break, and alter the temp to reduce energy usage when nobody's there.
● Take advantage of scheduling. Your smart thermostat can be configured with one or more schedules for your home's comfort. Arrange various temperature adjustments to accommodate your family's needs. Lower the temperature when it's time to go to bed, then increase it about an hour before you wake up. You can even design specific scenes based on "events" -- for example a scene for when you're having guests over or one for when the fireplace is being used.
● Lower utility bills by using home automation. One of the best things about smart thermostats is how they can reduce energy expenses. You have the ability to simply alter the temperature as needed based on seasonal changes, weather conditions, or time of day. You won't spend excess energy heating an empty house. Additionally, when implementing schedules, your thermostat adjusts itself. A range of utility services are known to offer incentives and rebates under specified circumstances.
● Utilize voice commands to control your smart systems. If you elect to install a smart thermostat in College Station, you also have the opportunity to program it to operate with a Google or Amazon AI assistant. This allows you to manipulate your home's comfort through simple spoken commands.
● Connect your thermostat to additional home automation components. When your smart thermostat is part of an overall home protection plan, you can connect all your elements together. This will help keep your home safe when disaster strikes. To illustrate, you may program your thermostat to activate the exhaust fan when your fire alarms sense excess heat.
Upgrade Your Home With A Smart Thermostat In College Station Today
When your current thermostat fails to satisfy your energy reduction and comfort demands, it's time to consider upgrading to an innovative smart model. These devices streamlined, easy to use, and offer substantial financial savings in the long run. You stand to reap the most benefit when you link it with a modern home security system. Call us today at (979) 330-5973 or complete the form below to inquire about your smart thermostat in College Station.
Areas Served Around College Station By Secure24 Your Local ADT Authorized Dealer